Ask most people on the street in any Caribbean island, to name their favourite Caribbean fashion designer and they'll be hard pressed to come up with a name. That's not to say that the region isn't home to some very successful designers, some of whom have made an international name for themselves, but the truth is, the recognition in the region, that Caribbean fashion design exists and is good, has a way to go.
But in recent years, a bevy of businesses have begun to change all that; regional model search competitions such as Pulse of Jamaica's Caribbean Model Search, a growing number of regional and local fashion shows and awards, and the rise of our own fashion magazines are together, helping shift the focus of the otherwise US fixated fashionistas of the region.
And into this arena steps the Caribbean Fashion Awards; launched in 2008 in Trinidad, and about to make it's second statement on April 11th, the Hilton Hotel in Barbados with the 2009 Caribbean Fashion Awards, this is perhaps the region's most comprehensive pat on the back for the Caribbean's Fashion industry: Awards are given across the spectrum of skills and businesses needed to create and sustain a viable industry.
We need events like this - and we need a lot more: In researching for this post, I spent quite a while scouring the net for more information on the activities that their press release says will culminate in the awards...to no avail. Finding websites of the nominated designers and other nominees was no easier, it was a hard search and I could only find a few. So if you happen to know that a nominee in any category has a webpage or site, please add it in a comment and I'll add the link.
Fashion, like the rest of business in the Caribbean, is still to catch with the Internet age. At least with exposure and support from events like the Caribbean Fashion Awards our designers and industry professionals are brought one step more towards the world's attention.
ATTEND
Individuals
If you'd like to attend the event, tickets are Bds$150 each and can be obtained by sending an email to rodney@caribbeanfashionawards.com stating the number of tickets you'd like to purchase.
Media
If you're media, download their Accreditation Form
here
. If you're a blogger like me, it doesn't appear that you'd qualify as a bona fide freelance reporter though, so, much as I'd like to bring it to you, you may not hear a first hand report on the event from me here - I could pay the $150 and go as a guest but I'm not sure that's going to happen. We'll see.
You can find a full list of nominees
here
and here are the links I scoured from the web for you:
Fashion Design Nominees
Kuumba Designs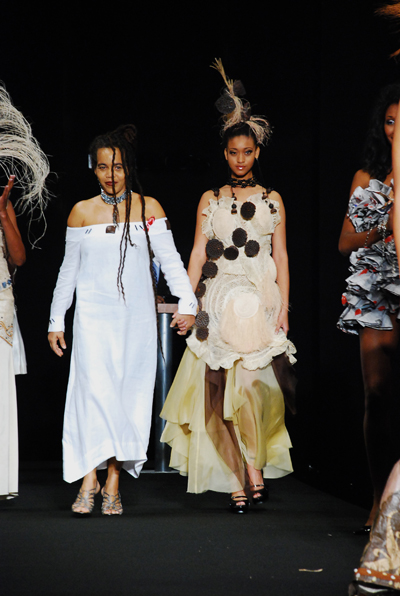 Heather Jones
Claudia Pegus
Kingsley Thorne
Robert Young
Francis Hendy
Fashion Magazine Nominees:
She Caribbean
Posh Caribbean
Shabeau
Caribbean Belle
Panache Ja Magazine
Photographer Nominees
Dave Cox of Caribbean Bride
Calvin French of Caribbean Belle Magazine
Rick Wayne of She Caribbean and Star Publishing
Model Nominees

Female
Tennille Stoute
Jaunel McKenzie
Gaye McDonald
Sara Collins
Sunna Gottshalk
La toya Woods
Male
Oraine Barrett
Russell Wilkinson
Kenwyn Millington
Tafari Hinds
Richard Elms
We're gathering Caribbean Creatives at a new network Caribbean Creatives Cafe- would you like to build your online presence?
Come join us!
If you liked this post or think someone else would like it, please use the SHARE THIS button or links below!